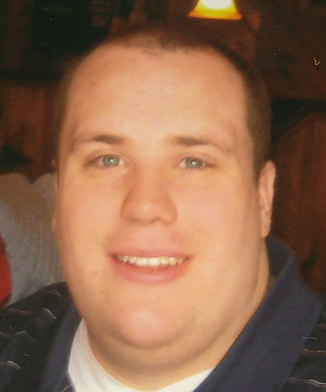 Daniel Joseph 'Buba' Kirane

"Beloved Son, Grandson and Brother"

LOWELL Daniel Joseph 'Buba' Kirane, 23, of Lowell, died unexpectedly Saturday evening, April 24, 2010 at his home with his loving family by his side. Born April 6, 1987, in Lowell, he was a son of Joseph and Kathy Ann (Fagan) Kirane.

He attended the Laura Lee Special Educational School in Lowell, before moving onto the May Center for Early Childhood, in Arlington until the age of 12. He then transferred over to the The New England Center for Children in Southborough, graduating in 2009. He was currently working at Nupath in Woburn, in a specialized day program for adults with special needs. He was a communicant of the former Sacred Heart Parish and St. Margaret's Church, and a member of Kids in Disability Sports, which his father co-founded.

Danny was diagnosed with autism at an early age. He overcame many obstacles in life. Even though he was non-verbal, he always managed to get his point across from having a DVD placed in one of his several television sets, to numerous late night rides with his partner in crime, his Dad. Danny enjoyed many things in life including cooking with his Mom, going to Blockbuster to rent movies to watch everyday, frequently playing Keno at Store 38, and going to Dunkin Donuts on Rogers Street. He also enjoyed reading books, listening to music, and most importantly going to his summer camp at Lake Winnipesaukee, New Hampshire.

Besides leaving behind the many things he enjoyed in life, including his parents, Joseph and Kathy (Fagan) Kirane; his grandparents, James and Mary "Peachie" (Goodfield) Fagan of Lowell; two dogs, Chip and Dale; he also leaves behind his sister and best friend, Sarah Ann Kirane; older brother Joseph Kirane III and his wife, Valeria Kirane and two nephews, Dylen and Ian Kirane of Oldsmar, FL; his aunts and uncles, Kevin and Mary Kirane of Lowell, Judith Kirane of Lowell, Joanne and Charlie McEwen of Hampstead, NH, Donna and Wes Cox of Lowell, James Fagan Jr. and his companion Denise of Methuen and Theresa Fagan of Boylston and many beloved cousins, and friends.
He was also the grandson of the late Joseph and Helen Kirane.

Although Danny's time was short, he brought hope and understanding to all that knew him. He made many of us realize what really matters in life. He will always be remembered to all as the 'Gentle Giant'.
YOU ARE INVITED TO HIS CALLING HOURS 4 UNTIL 8 P.M. ON THURSDAY, APRIL 29. ON FRIDAY, HIS FUNERAL WILL BEGIN AT 10 A.M. AT THE MCDONOUGH FUNERAL HOME, 14 HIGHLAND STREET, LOWELL 978-458-6816. HIS FUNERAL MASS WILL BE OFFERED AT ST. MARGARET'S CHURCH AT 11 A.M.. BURIAL IN ST. MARY CEMETERY. IN LIEU OF FLOWERS, PLEASE SEND DONATIONS TO THE NEW ENGLAND CENTER FOR CHILDREN, 33 TURNPIKE ROAD, SOUTHBOROUGH, MA 01772-2108 OR KIDS IN DISABILITY SPORTS, K.I.D.S.
220 PAWTUCKET STREET, LOWELL, MA 01854 E-CONDOLENCE SITE WWW.MCDONOUGHFUNERALHOME.COM