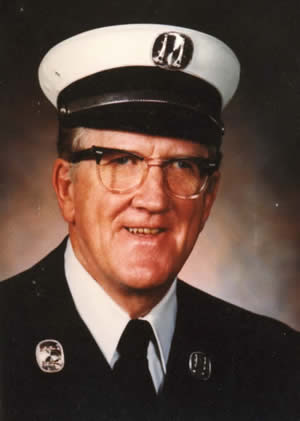 Daniel J. Gannon
Retired Lowell Fire Captain
Daniel J. Gannon, 82, a lifetime resident of the Pawtucketville section of Lowell, died after an extended illness, on November 21, surrounded by his family . He was the husband of Theresa P. (Belanger) Gannon with whom he celebrated their 60 wedding anniversary on September 26, 2008.
A lifetime resident of Lowell, he was born March 14, 1926, and was a son of the late Daniel J. Gannon Sr. and Katherine (Grady) Gannon. He served in the Army Corps during WWII in the European Theater of Operations, serving with the 91st Bomb Group. He received several decorations. He was a lifetime communicant of St Rita's church.
Dan served on the Lowell Fire Department until 1981 retiring as a Captain from Ladder 4, in the Centerville Section of the City. He was Founder and President Emeritus of the Lowell Retired Firefighters Association. He was a member of the Retired State, County, and Municipal Employees Association. He was a lifetime member of the American Legion, the Veterans of Foreign Wars, the Disabled American Veterans, and the 91st Bomb Group Memorial.
Beside his wife, Terry, his is survived by five sons, Gary Gannon and his wife, Deborah, of Erving, Ma, Daniel Gannon III, of the Lowell Fire Dept, and his wife, Celeste, of Lowell, Lt. James Gannon, of the Lowell Fire Dept., and his wife, Susan, of Lowell, Scott Gannon and his wife, Sharon, of Tyngsboro, and Keith Gannon and his wife, Lynn, of Pelham, NH; two daughters, Linda Dennechuk and her husband, Peter, of Westford and Cheryl Boulanger and her husband, Herve, of Lowell; two brothers, Richard Gannon of Sandwich, Ma, and David Gannon and his wife, Joan, of Rye, NH; four sisters, Joan Publicover of Lowell, Isabelle Gannon and her husband, Paul Paris, of Methuen, Ma, Katherine Kiernan and Sheila Bishop both of Lowell; a brother in law, Gerard Belanger and his wife, Mavis ,of Hamstead, NH; sisters in law, Doris Hughes of Nashua, NH and Rita Bastien of Hudson, NH; as well as sixteen grandchildren; five great grandchildren; and many nieces and nephews.
He was the brother of John Barry Gannon, who was also a Lowell Firefighter, who died in 1986.

YOU ARE INVITED TO HIS CALLING HOURS 4 UNTIL 8 P.M. ON MONDAY.
ON TUESDAY, HIS FUNERAL WILL BEGIN AT 9 A.M. AT THE MCDONOUGH FUNERAL HOME, 14 HIGHLAND STREET, LOWELL (978 OR 800) 458-6816.
HIS FUNERAL MASS WILL BE OFFERED AT ST. RITA'S CHURCH AT 10 A.M.. BURIAL IN ST. MARY CEMETERY.
IN LIEU OF FLOWERS, PLEASE DONATE TO THE FIREFIGHTERS MEMORIAL FUND. C/O LOWELL RETIRED FIREFIGHTERS ASSOCIAITON INC. 362-362 FLETCHER STREET LOWELL MA 01854.