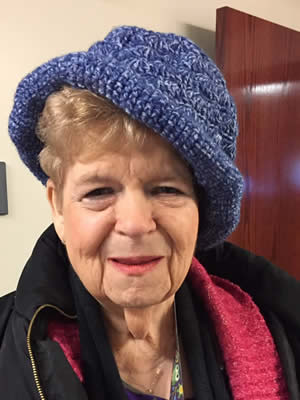 Constance 'Connie' Richards R.N.
LOWELL       Constance 'Connie' Richards, 77, a longtime resident of Lowell, passed away peacefully, June 27, 2018, at Wingate at Belvedere.
     A daughter of the late Edward N. Richards and the late Mary Isabel (Bean) Richards, she was born June 21, 1941, in Exeter, New Hampshire, and was raised and educated in that area.  
      Connie attained her Registered Nurse from Concord New Hampshire Hospital School of Nursing, and a  Bachelor of Science in Nursing from the University of Cinncinatti.  She went on to attain a double Masters Degree with a 4.0 average first in Nursing and then in Comprehensive Health Planning and Public Administration from the University of Cincinnati.  She went to Russia and studied their medical procedures among other things.  She didn't brag about her knowledge or accomplishments and for many years worked as a triage nurse before teaching many nursing and health classes at John Hopkins University.  Throughout her lifetime she was a lecturer and educator in the Nursing field.  Later in her career, she revamped the nursing program at the Veteran's Administration and continued her teaching in the nursing field.  She then ran a home health care business in Lowell until she retired.  She was also a published author of two publications, and co-authored grant proposals for the health care industry.
       A fifty year member of the O.E.S., the Order of Eastern Star, she was also a member of the Church of Jesus Christ of Latter Day Saints.  For many years, Connie made her home at Rogers Hall in Lowell and formed lasting relationships with not only her Church members but also with her neighbors.  Connie was also a gifted poet and will be remembered for the poems she passed on to relatives and friends as gifts and momentos.
      Her survivors include her nephews, Brian Decatur of Williston, VT, Scott Decatur and his wife, Nan, of Colchester, VT, and Jordan Decatur and his girlfriend, Maeve, of Manchester, NH; her niece, Heather Cloud and her husband, Rick, of Chester, VT;  her close friend, Pat Driscoll of Lowell and Brunella Lopes of Westford; her brother in law, Lee T. Decatur of Chester, VT; as well as her dear, close friends in the Church community.
      She was predeceased by her sister Patricia Richards Decatur.
          ON SATURDAY, JULY 7, YOU ARE INVITED TO HER VISITATION FROM 9-9:30 A.M AT THE CHURCH OF JESUS CHRIST OF LATTER-DAY SAINTS, 421 PRINCETON BLVD., LOWELL, MA 01851.
HER FUNERAL SERVICE WILL BEGIN SATURDAY AT 9:30 A.M. FOLLOWED BY BURIAL AT WESTLAWN II CEMETERY IN LOWELL, MA. ARRANGEMENTS BY THE MCDONOUGH FUNERAL HOME, 14 HIGHLAND STREET, LOWELL, MA 978-458-6816.