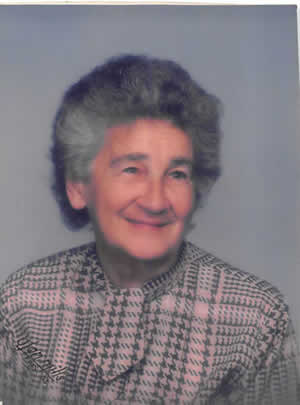 Conception A. 'Connie' (Sousa) Santos

LOWELL Conception A. 'Connie' (Sousa) Santos, 99 of Lowell, passed away unexpectedly on Wednesday, April 8, 2020 at Northwood Nursing Home. She was the widow of the late Roland M. Santos, who passed away in 2001 after 55 years of marriage.

Connie was born in Lowell on August 12, 1920 and was a daughter of the late John Sousa and the late Mary A. (Camara) Sousa. She was raised in Mt. Vernon, NY, and was educated in the area, graduating from Mt. Vernon High School with the class of 1939.

In 1946, Connie and Roland were married and relocated to Lowell, where she worked as a stitcher in the Lowell Mills, mostly at Lowell Lingerie until her retirement. She was a communicant of St. Anthony Church and was a member of the Holy Ghost Society and the International Ladies Garment Workers Union. She enjoyed walking from the Highlands to Shedd Park, and reading. Although she had many passions throughout her life, spending time with her family, especially baby sitting her great grandchildren, brought her the most happiness.

Connie is survived by two children, Roland A. Santos and his wife, Rae of Lowell, and Patricia Freitas and her significant other, Robert Clegg of Chelmsford; and her six grandchildren, Raeanne Santos of Lowell, Tony Santos and his wife, Susan of Hudson, NH, Guy Santos and his wife, Tina of Winchendon, MA, Steven Santos and his wife, Melissa of Lowell, Tanya Coutu of Chelmsford, and Dena Lusakhpuryan and her husband, Alex of Lowell.

She is also survived by her beloved fifteen great grandchildren, Joshua and Desirae Tremblay, Ryan, Andrew and Anthony Santos, Joseph Jardine, Cassandra and Madelyn Santos, Alex and Evandra Santos, Jacquelyn Coutu, Rylee Coutu and her husband, Teddy Panagiatopouls, and Lily Coutu, Brady and Marina Lusakhpuryan; and two great-great grandchildren, Ari and Ruby Panagiatopoulos; her sister, Agnes Crocco of West Palm Beach, FL; and many nieces and nephews.

She was welcomed into heaven by her siblings, the late August, John and Herbert Sousa, the late Bella White, the late Doris Wool, the late Tillie DiCintio, the late Clara Sousa, and the late Delores Hobson.

DUE TO MA STATE REGULATIONS DURING THE COVID-19 PANDEMIC, HER BURIAL TOOK PLACE PRIVATELY AT ST. PATRICK CEMETERY IN LOWELL.
A MEMORIAL SERVICE WILL BE HELD AT A LATER DATE AND WILL BE ANNOUNCED ON OUR FACEBOOK AND WEBPAGE. ARRANGEMENTS BY THE MCDONOUGH FUNERAL HOME, 14 HIGHLAND STREET, LOWELL, MA 978-458-816.