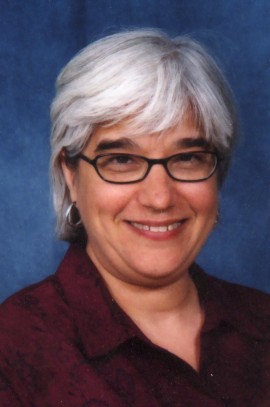 Rachelle A. Comtois
YOU ARE INVITED TO HER VISITATION 8:30 UNTIL 10:30 A.M. ON SATURDAY MORNING FEBRUARY 9, 2008 IN ST. PATRICK (lower) CHURCH 282 SUFFOLK STREET LOWELL MA 01854.

LOWELL       Rachelle A. Comtois, 46, a longtime resident of Lowell, died of cancer on Jan. 30, 2008 while at the Lahey Clinic in Burlington.  First diagnosed with the disease five years before, she suffered its worst effects only in the final month of her ordeal when her heart finally stopped at 7:20 a.m.
     Rachelle was born on July 27, 1961 in Lowell, Massachusetts, the daughter of Vincent and Cecile Comtois. She is survived by brothers Pierre and Joseph Comtois, Louis Comtois and his wife Tracey, Therese Lane and husband Christopher, and Marie Cyr and husband Dale Cyr.
     In her short life, Rachelle resided in numerous places and touched countless lives. Dedicated to the mission of the Roman Catholic Church, she graduated from St. Louis Academy in 1980 and earned a BA from Rivier College in Nashua, NH and minored in Life in Social Working at Rivier, before taking a teaching position at St. Joseph Parish School in Greenville, MS. She worked briefly at the Washington County Group Home for Women in MS before taking a second teaching position at the St. Labre Catholic Indian Mission in Ashland, MT before becoming director of Youth and Young Adult Ministry for the Diocese of Bismarck, ND. Following her western sojourn, Rachelle moved back home to work for the Diocese of Worcester as its Director of the Office of Social Justice, Peace and the Integrity of Creation and in 2000 returned to Lowell where she was employed by Merrimack Valley Catholic Charities as its Director of Parish Social Ministry and Grandparents as Parents.
     In addition, Rachelle was also involved in a number of religious activities including a 14 year stint teaching religious education for grades 4, 5, 6, 9, and 10 at the former St. Louis de France Parish in Lowell, and most recently the RCIA program at St. Patrick's Parish also in Lowell.
     In her varied career, Rachelle came into contact with many other similarly minded people and became involved in a number of prayer based groups including the Agape lay community in Hardwick, Massachusetts, the St. Louis Parish prayer group, and the Greater Lowell Interfaith Leadership Alliance, with whom she worked to persuade the Lowell City Council to change its opening prayer at meetings. Rachelle was also licensed as a special education consultant, home schooling examiner, and ombudsman. In between, she also found the time to earn a Masters Degree in educational and pastoral ministry from Emmanuel College in Boston, MA and received a Ph.D in theology from Oxford Graduate School, Dayton, TN branch.
     Besides father and siblings, Rachelle is survived by a bevy of nieces and nephews including Jeffrey Comtois, Hannah Lane, Leanne Cyr, Keith Comtois, James Lane, Eric Cyr, Peter Lane, Cecile Comtois, and Nathanael Lane.
     Rachelle loved a challenge, had an adventurous spirit, and seemingly boundless energy. In her spare moments, she liked to relax playing the flute, piano, or saxophone and loved to travel. She took pleasure in her French heritage, her attempts at gardening, and the Waltons television show.

     YOU ARE INVITED TO HER VISITATION 8:30 UNTIL 10:30 A.M. ON SATURDAY MORNING FEBRUARY 9, 2008 IN ST. PATRICK (lower) CHURCH 282 SUFFOLK STREET LOWELL MA 01854. HER FUNERAL MASS WILL BE OFFERED IMMEDIATLY FOLLOWING HER CALLING HOURS IN ST. PATRICK CHURCH AT 11 A.M.  BURIAL IN ST. JOSEPH CEMETERY. MEMORIALS IN HER NAME TO MERRIMACK VALLEY CATHOLIC CHARITIES GAP, 70 LAWRENCE ST., LOWELL, MA 01854. E-CONDOLENCE SITE WWW.MCDONOUGHFUNERALHOME.COM. FUNERAL DIRECTORS AT THE MCDONOUGH FUNERAL HOME (978 or 800) 458-6816.