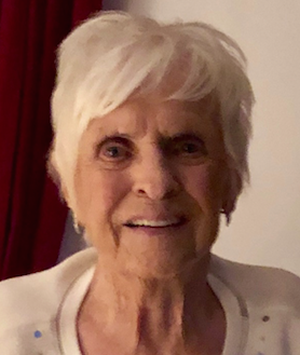 Collette Anne (Peacock) Couture
"Beloved Mother and Matriarch of Her Family"

LOWELL        Collette Anne (Peacock) Couture, 84, of Lowell, passed away at her home after a long illness on Sunday, March 3, 2019 with her family by her side. She was the widow of the late Raymond Maurice Couture who passed away in 2004 after 52 years of marriage.

    She was born in Saco, ME on April 15, 1934 and was a daughter of the late Richard Peacock and the late Madeline (Gallagher) Peacock. She was raised in Saco, where she attended the area schools. In 1961, she moved to Lowell to raise her family.

    Collette was employed as a waitress her entire life, working various places in Maine, Lowell, and Florida. She retired at the age of 76. She loved yard sales and playing card games, especially Pennies. But more than anything, time spent with her family was what means the world to her.

    She is survived by her children, Daniel Couture and his wife, Darlene, Mary Falcone and her husband, Dominick, Rebecca Couture, and Michelle Griswold and her husband, Arthur. She is also survived by nine grandchildren; several great grandchildren; nine siblings; and several brothers & sisters in law.

    She was the mother of the late Brian Couture; and sister of the late Bob Noyes.

AT HER REQUEST, CALLING HOURS HAVE BEEN OMITTED. ARRANGEMENTS BY THE MCDONOUGH FUNERAL HOME, 14 HIGHLAND STREET, LOWELL, 978-458-6816.