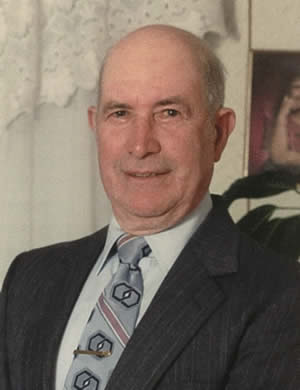 Cipriano C. Silva
"Beloved Father, Grandfather and Great Grandfather"

LOWELL Cipriano C. Silva, 94, of Lowell, died Monday, April 29, 2013, at his home surrounded by his loving family.
He was the widower of the late Maria de Lourdes Silva who died October 2012.

Born September 15, 1918, in Santa Cruz, Graciosa, Portugal, he was raised and educated there. He served four years in the Portuguese Army where he was stationed in Terceira, meeting and marrying his beloved Maria deLourdes. Together, they raised their four children and enjoyed their grandchildren and great grandchildren. Cipriano was a farmer and winemaker in Portugal until 1966 when he moved his family to the United States settling in Lowell.

He worked for Roche Brother Barrel Company until his retirement in 1981. He loved working on his garden, especially his grapevines and fruit trees. His most enjoyed hobby was walking around his neighborhood and family and friends said they could set their clocks by him as he always passed by at the same time everyday until his illness no longer allowed him to continue.

He is survived by his children, Manuel Cunha and his wife, Maria deLourdes, of Terceira Azores, Jose Silva and his wife, Maria Ermelinda, of Lowell, Maria Gomes and her husband, Antonio of Lowell, and Mary (Vicky) Silveira and her husband, Manny, of Lowell; his eleven grandchildren, Paulo Silva, Lisa Gomes, Cindy Borges, Erika Silveira, Kimberly Sousa, Melissa Silveira-Pais, Daniel Silva, Fatima Montenez, Jessica Silva, Paul Silveira, and Olivia Gomes; eleven great grandchildren, Beatriz Borges, Anthony Silva, Destiny Montenez, Timothy Silva, Devannia Eracleo, Clara Borges, Sereia Montenez, Roman Eracleo, Trinity Silva, Gabriela Silveira Pais, and Damion Gomes Stamas and several nieces and nephews.

He was predeceased by his brothers and sisters, Luisa Mendonca, Rosa DaCunha Silva, Maria DaGloria DaCunha, Manuel DaCunha Silva, Joao DaCunha Silva, and Serafin daCunha Silva.
YOU ARE INVITED TO HIS CALLING HOURS 6 UNTIL 8 P.M. ON FRIDAY, MAY 3. ON SATURDAY, HIS FUNERAL WILL BEGIN AT 8 A.M. AT THE MCDONOUGH FUNERAL HOME, 14 HIGHLAND STREET, LOWELL (978 OR 800) 458-6816. HIS FUNERAL MASS WILL BE OFFERED AT ST. ANTHONY'S CHURCH, 893 CENTRAL ST., LOWELL, AT 9 A.M.. BURIAL IN LOWELL CEMETERY. E-CONDOLENCE SITE WWW.MCDONOUGHFUNERALHOME.COM