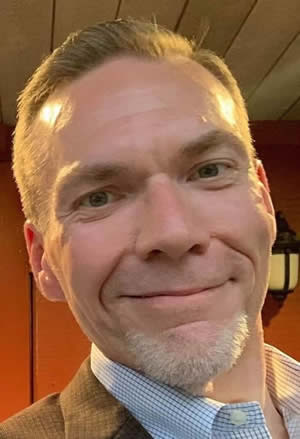 Christopher J. 'Chris' Otte

HOLLIS, NH         On Thursday, October 17, 2019, Christopher John Otte, loving father, devoted son, and beloved partner, passed away due to natural causes at the age of 51.

Chris was born on December 29, 1967 to David and Genevieve (Caulfield) Otte. He started his career in drafting and design, and worked his way up to Sr. Mechanical Engineer, most recently with Juniper Networks in Westford, MA.  He married Tina Larivee in 2002, and loved and nurtured 2 daughters, step-daughter Casey L'Heureux, and daughter Emily Margaret Otte, born in 2004. Though Tina and Chris parted in 2013, they remained friends and devoted co-parents to the girls.

Chris had a great passion for the outdoors.  As often as he could, he enjoyed hiking, snowshoeing, and taking a ride on his lovingly restored 1980 BMW R100T.  He was an accomplished photographer; preferring subjects from nature, and the people and animals he loved.

Chris was preceded in death by his father David.  He is survived by his mother Genevieve, his daughter Emily, his step-daughter Casey, his partner Diane Hall, his brother David Otte Jr. and sister-in-law Lorina, brother 'Chipper' Otte, and sister Marilyn and brother-in-law Randy Lembo, as well as many aunts, uncles, and cousins.  

In lieu of flowers, the family requests donations be sent to Beaver Brook Association, Inc., 117 Ridge Rd, Hollis, NH, 03049 or online at https://www.beaverbrook.org/support/make-a-donation/

ON FRIDAY, OCTOBER 25, 2019, HIS VISITATION WILL BE HELD FROM 4 P.M. UNTIL 8 P.M. AT THE MCDONOUGH FUNERAL HOME, 14 HIGHLAND STREET, LOWELL, MA 978-458-6816.
ON SATURDAY, HIS FUNERAL SERVICE WILL BE HELD AT THE FUNERAL HOME AT 10 A.M. FOLLOWED BY BURIAL AT LOWELL CEMETERY.
DURING THE FUNERAL SERVICE, ANYONE WISHING TO SHARE A FOND REMEMBRANCE OF CHRIS IS INVITED TO DO SO.