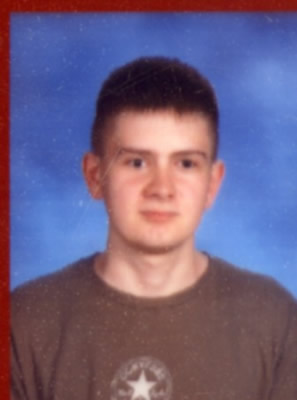 Christopher Joseph Cordeiro

LOWELL Christopher Joseph Cordeiro, 18, of Lowell, died unexpectedly, Saturday, July 17, 2010. He was a son of Joseph A. Cordeiro of Lowell and the late Holleen T. 'Holly' (Dubois) Cordeiro.

Born December 20, 1991, in Lowell, as a child, he lived in Dracut and attended the Campbell School in Dracut before residing in Lowell where he attended St. Stanislaw School and the Immaculate Conception School. In September, he would have started his Senior Year at Lowell High School where he was a member of the ROTC Program.

A former communicant of St. Francis Church in Dracut, he currently was a communicant of St. Anthony's Church in Lowell.

Christopher loved spending time with his family and enjoyed time at the Beach and loved the sea, especially deep sea fishing. He also enjoyed reading, video games, and was a supporter of Benfica and had played soccer in in his younger days.

In addition to his father, Joseph, he is survived by his brother, Kyle J. Cordeiro of Lowell; his grandparents, Joseph P. Cordeiro and his wife, Eduina, of Lowell, Donald L. Dubois and his wife, Pauline, of Lowell, his great grandmother, Lucine Dubois of Methuen; his uncles, Mark Cordeiro of Lowell, Victor Cordeiro of Lowell, and Joseph Dubois of Lowell; his aunts, Tammie Dubois of Lowell, Penny (Dubois) Sanchez and her husband, Herminio, of Lowell, Tracy Dubois of Lowell, and Amy Dubois of Lowell; and many family members, cousins, and friends in the Lowell area, in Faial and Pico, Azores, and in Canada.

He was also a great grandson of the late Leo Dubois and nephew of the late Paul Dubois.

IN ORDER TO RESPECT THE FAMILY'S PRIVACY, PLEASE MEET THE FAMILY ON SATURDAY, JULY 24, AT 11 A.M. AT ST. ANTHONY'S CHURCH, 893 CENTRAL ST., LOWELL FOR CHRISTOPHER'S FUNERAL MASS. ARRANGEMENTS BY THE MCDONOUGH FUNERAL HOME, 14 HIGHLAND STREET, LOWELL 978-458-6816. IN LIEU OF FLOWERS, DONATIONS IN HIS NAME TO AMERICAN DIABETES ASSOC., P.O. BOX 11454, ALEXANDRIA, VA 22312. E-CONDOLENCE - MCDONOUGHFUNERALHOME.COM