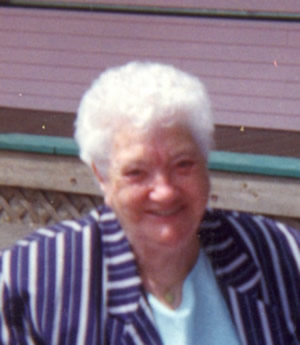 Catherine Elizabeth 'Kay' Mannisto
"Beloved Ma, Nana & Great Nana Banana"

LOWELL Catherine Elizabeth 'Kay' Mannisto, 97, of Lowell, died Wednesday, January 4, 2012, at Palm Manor Nursing Home after an extended illness. She was the widow of the late William U. Mannisto, who died in 1977.

Born November 2, 1914, in Lowell, she was the last of fourteen children of the late Thomas and the late Maryanne (Carroll) Fitzsimmons, and was educated in Lowell, attending the Immaculate Conception School.

Kay made her lifelong home in Lowell, and enjoyed family above all else. During World War II, while her husband was overseas, she worked at Hub Hosiery to support the war as well as her family. Her late husband, William, was among the troops that came ashore to the Philippines with General MacArthur, fulfilling his promise to return.

Her hobbies were gardening and embroidery, and she was an avid walker, spending as much time as she could walking throughout the area even into her late eighties. She was a deeply devoted communicant of St. Joseph the Worker Shrine, and the former Sacred Heart Church.

She is survived by her children, Kathleen A. Mannisto of Lowell, Mary L. McMahon of Melbourne, FL, Patricia M. Giguere and her husband, Paul L., of Dracut, and Donna L. Mannisto of Lowell; her eight grandchildren; her ten great grandchildren; and many nieces and nephews.

Kay was the last of the 14 Fitzsimmons children and was predeceased by her thirteen siblings.

The family would also like to recognize Palm Manor Nursing Home for the exceptional compassionate care that she received.

YOU ARE INVITED TO HER FUNERAL MASS AT 9 A.M. ON MONDAY, JAN. 9, AT IMMACULATE CONCEPTION CHURCH, (LOWER CHURCH) 144 EAST MERRIMACK ST., LOWELL. A PROCESSION WILL FOLLOW TO ST. PATRICK CEMETERY, WHERE FAMILY AND FRIENDS ARE INVITED FOR ONE LAST WALK WITH KAY. IN LIEU OF FLOWERS MEMORIAL CONTRIBUTIONS IN HER NAME MAY BE MADE TO AMERICAN CANCER SOCIETY CENTRALIZED MEMORIAL PROCESSING CENTER, 30 SPEEN ST, FRAMINGHAM, MA 01701-9376.