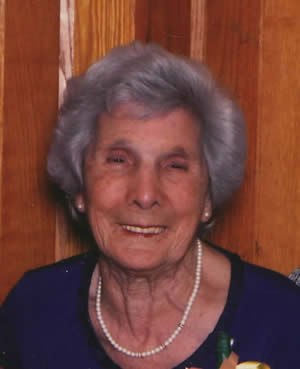 Caroline T. McCarthy

LOWELL Caroline T. (Texiera) McCarthy, 93, a longtime Lowell resident, died Wednesday, January 23, 2013, at Northwood Health Care Center on her birthday. She was the widow of the late Edward J. McCarthy Jr., who died in 2006 after over Sixty Years of Marriage.

A daughter of the late John and the late Rose (Augusta) Texiera, she was born January 23, 1920, in Lowell, and was educated in the Dracut School System, and attended adult education courses at the Lowell Regional Vocational Technical High School.
Since 1951, she resided in the Highlands Section of the City, and was a communicant of St. Margaret's Church. She had worked Model Dress and other local dress shops inspecting clothes. She made custom drapes for hotels and hospitals as a stitcher for Horan Manufacturing Company for ten years before her retirement.

Caroline was a member of the Smith Baker Center, the Salvation Army, the Chelmsford Senior Citizens, and enjoyed the Home Away From Home. She was also a member of Sally Field's Quilting Club and helped to make the quilts in the Lowell City Hall as well as the ones at the Girls Club, she also made afghans and donated them to the Children's Hospital in South Windsor, CT. She enjoyed traveling around the World especially throughout Europe, crocheting, knitting, camping, and especially enjoyed spending time with her family, most especially the mystery rides with her daughters.

Her survivors include her children, Pat Texiera of Lowell, Elizabeth "Betty" McCarthy of Washington, D.C., Carol Ann Genakos and her husband, Theodore, of Lowell, Edward Jay McCarthy and his wife, Meghan, of Buzzards Bay, and Larry R. McCarthy of Londonderry, NH; four grandchildren, Kristopher Genakos and his wife, Melissa, of Gilford, NH, Stephen Genakos and his wife, Kara, of Dracut, Joshua McCarthy of Brookline, NH, and Bethanie McCarthy of Centerville, MA; and several great grandchildren; two brothers, Joseph R. Teixeira and his wife, Shirley, of S. Windsor, CT, and Francis R. Texiera and his wife, Florence, of Tennessee; her brother and sister in law Anita and John McCarthy of Dracut, and many nieces and nephews including her special niece, Louise Mahan of Lowell.

She was also a sister of the late Georgianna Drolet, the late Clara Sardella, the late John Teixeira, the late Anthony Texiera, and the late Virginia Labao.

The family would like to thank Dr. Botie and the staff at Northwood Health Care Center, C Wing as well as the New England Hospice for their kind and compassionate care shown to Caroline.

YOU ARE INVITED TO HER CALLING HOURS 4 UNTIL 8 P.M. ON FRIDAY, JAN 25. ON SATURDAY, HER FUNERAL WILL BEGIN AT 8:30 A.M. AT THE MCDONOUGH FUNERAL HOME, 14 HIGHLAND STREET, LOWELL 978-458-6816. HER FUNERAL MASS WILL BE OFFERED AT ST. MARGARET CHURCH, 374 STEVENS ST., LOWELL AT 9:30 A.M.. BURIAL WILL BE HELD PRIVATELY AT ST. PATRICK CEMETERY. IN LIEU OF FLOWERS MEMORIAL CONTRIBUTIONS MAY BE MADE IN HER NAME TO THE NEW ENGLAND HOSPICE, 198 OLD DERBY ST., SUITE 304, HINGHAM, MA 02043