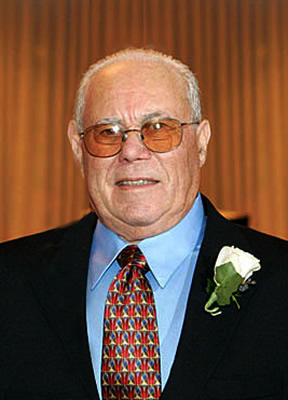 Carlos C. Santos
Loving Husband, Father, Grandfather, and Great Grandfather

LOWELL Carlos Santos passed away surrounded by his loving family on Saturday, October 26, 2013 at his home in Lowell, MA. He was born in Graciosa, Azores, Portugal on May 22, 1926, a son of the late Alexandrino Correia de Sousa and the late Francisca Correia de Melo. He was the beloved husband of Noemia Lobao Santos with whom he celebrated 64 years of marriage this past year.

He came to the United States in 1963 to give his family a better life. Carlos owned Franks Fish Market on Central Street as well as working at Wang Laboratories for ten years. He was a communicant of St. Anthony's Church and a lifetime member of the Holy Ghost Society. He loved to fish, take care of his vegetable garden, and was a wonderful seafood cook. Carlos enjoyed telling stories about growing up in the old country as a young boy, working at the Windmill grinding wheat to make flour, and of course he loved telling stories of how he met his loving wife, Noemia, and the house he built for them. Not only did he play the saxophone in the Portuguese Band in Graciosa, but he was also an excellent accordion player. He enjoyed watching his favorite TV shows, such as The Three Stooges, Bonanza, Rifleman, and The Lawrence Welk Show. Most of all he loved being with his wife, children, grandchildren and great grandchildren.

He is survived by his wife, Noemia Lobao Santos; and their children, his oldest son, Carlos (Carlinhos) Santos and his wife, Maria (Guadalupe) of Hudson, NH, his only daughter, Dolores (Santos) Lopes and her husband, Frank of Lowell, and their youngest son, Kenneth (Kenny) Santos and his wife, Manuela of Tewksbury; as well as seven grandchildren and their spouses, Denny Santos, Derek Santos, Vanessa (Lopes) Gilberti, Matthew Lopes, Christopher Lopes, Kurt Santos, Celina Santos; four great-grandchildren, Devon Santos, Austin Lopes, Adian Santos, Lilliana Santos; and many nieces and nephews. He is also survived by one sister, Maria Leonore Santos of Terceira, Azores; and a sister in law, Hilda Sousa of Dracut.
Carlos was also the brother of the late Alvarina Correia Sousa and Berta Correia Sousa of Graciosa, Azores, Portugal; brother in law of the late Manuel and Alice Felix, Manuel and Felismina Lobao, Casmiro and Deidamia Sousa, Frank and Irene Leandro, Jose and Maria Dias, Arlindo and Libia Melo, Ivo and Herminia Lima, and Aristides Sousa; and uncle of the late Yvone Conde.

His family would like to express their deepest gratitude to the wonderful nurses and doctors at Lowell General Cancer Center for making the past 11 years a pleasant and caring environment; and to the nurses and staff at Northwood Rehab Center for their kindness and caring treatment during the several times he was at the center; and a special thanks to the Greater Lowell VNA Hospice nurses for their compassion, care and support during this difficult time.

YOU ARE INVITED TO HIS CALLING HOURS FROM 6 UNTIL 8 P.M. ON WEDNESDAY, OCTOBER 30. ON THURSDAY, HIS FUNERAL WILL BEGIN AT 8 A.M. AT THE MCDONOUGH FUNERAL HOME, 14 HIGHLAND STREET, LOWELL 978-458-6816. HIS FUNERAL MASS WILL BE OFFERED AT ST. ANTHONY'S CHURCH, 893 CENTRAL STREET, LOWELL AT 9 A.M.. BURIAL IN ST. MARY CEMETERY. MEMORIALS IN HIS NAME MAY BE MADE TO THE LOWELL GENERAL CANCER CENTER, C/O DEVELOPMENT OFFICE, 295 VARNUM AVE, LOWELL, MA 01854.