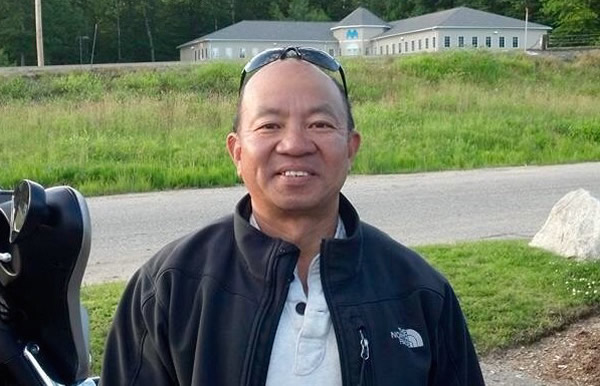 Bruce V. Ley aka 'Chhouy'
METHUEN Bruce V. Ley aka 'Chhouy', 50, of Methuen, passed away unexpectedly Wednesday, February 3, 2016.
He was born on January 10, 1966 in Battambang, Cambodia and was a son of the late Kao Ley and the late Phuong (Taing) Ley. At the age of 13, Bruce immigrated to the United States and resided in Lowell, before relocating to Salem, New Hampshire, where he started his family. He attended schools in Lowell and graduated from Lowell High School and attended UMass Lowell.
More recently, Bruce resided in Methuen and was a member of the Glory Buddhist Temple in Lowell. Along with his family, he owned and operated Top Donut in Lawrence for 18 years. He was extremely dedicated to helping his community and gained tremendous respect for his support. He enjoyed fishing, riding his motorcycle, and playing billiards. Although he had many passions throughout his life, spending time being a devoted father was the most important to him. Bruce always lived life to the fullest.
He is survived by his four children, Jennifer Ley, Justin Ley, Jasmin Ley, and Jessica Ley, all of Methuen; his older brother, Robin Ley and his wife, Wendy of Dracut; his older sister, Tang Khov and her husband, Sieu Che of Salem, NH; and his younger sister, Sandy Ley of Lowell. He is also survived by his lifelong friends, Linn Pheng and his family from Dracut; and his former wife of 19 years, Lisa Seng of Methuen. Bruce will be forever missed by his family and his many friends.

ON SUNDAY, FEBRUARY 14, 2016, CALLING HOURS WILL TAKE PLACE FROM 4 - 6 P.M. AT THE MCDONOUGH FUNERAL HOME, 14 HIGHLAND STREET, LOWELL 978-458-6816.

ON MONDAY, FEBRUARY 15, 2016, CALLING HOURS WILL BEGIN AT 2PM AT GLORY BUDDHIST TEMPLE, 24 CAMBRIDGE STREET, LOWELL, MA.

ON TUESDAY, FEBRUARY 16, 2016, HIS FUNERAL CEREMONY WILL BEGIN AT 8 A.M. AT GLORY BUDDHIST TEMPLE, 24 CAMBRIDGE STREET, LOWELL.
A PROCESSION WILL FOLLOW TO ST. MARY CEMETERY IN LAWRENCE.