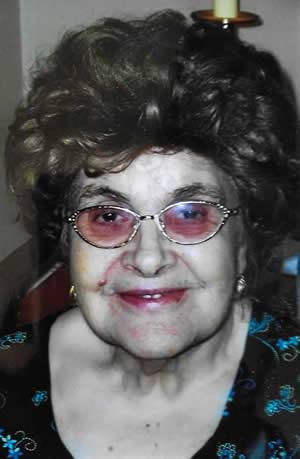 Biondina V. (Leandro) Bettencourt

LOWELL        Biondina V. (Leandro) Bettencourt, 86, of Lowell, passed away due to complications from Covid-19 on May, 19, 2020. Since the age of 22, she was the loving wife of Martins Bettencourt who passed away on November 15, 1996.

     She was born on July 18, 1933, in Graciosa, Azores, she was a daughter of the late  Joaquin, and the late Francisca (Veira) Leandro.  She spent her early life in Graciosa, she married and started her family,  in her teenage years you would often find her playing guitar and singing at the Portuguese Bailhos.

     She came to the United States with her husband and two children on January 17, 1967.  She settled in the Back Central Neighborhood and worked in the area shoe factories, mainly at the Thorndike Shoe Factory, and the Lawrence Maid Shoe Factory in Lawrence, until she retired to take care of her mother.  She was very involved in the Portuguese Community, and was very dedicated to her faith.  She was a communicant of St. Anthony's Parish, and attended Mass daily whenever she could.  She was a life member of the Holy Ghost Society, as well as a member of the Portuguese Holy Trinity Society, and the Holy Rosary Sodality.   She loved her family, and cherished time spent with her children, grandchildren,and great grandchildren. Every Sunday she made family dinners, and when she was not cooking or baking she would be found crocheting doilies, bed spreads and tablecloths.

     She is survived by two of her children, Norberto Bettencourt of Lowell, and Dorothy and her husband Antonio Ortins of Lowell; her grandchildren, Norman and his wife Mari Bettencourt of Bronx, NY, Monica and her husband Dave Rondeau of Maine, Kevin and his wife Yanitza Ortins of Lowell, Melissa and her wife Nicole Ortins of Methuen; her great grandchildren, Adrianna Bettencourt, Elizabeth Rondeau, Madelyn Rondeau and Kevin Ortins Jr..  She is also survived by many nieces, nephews and godchildren, and friends.

     She was the mother of the late Teresa Bettencourt and Daniel Bettencourt, sister of the late Joaquin and his wife Nelsina Leandro, Maria V. Leandro who passed away at a young age, Manuel and his wife Helia Leandro, Frank and his wife Irene Leandro, Leojilda V. and her husband Manuel Espinola, and sister in law of the late Francisco and his wife Virginia Bettencourt.

     Family would like to thank everyone at Northwood Health Care Center for the care she received for the past 9 years and 9 months, as well as for the Hospice care given to her during these difficult two weeks.

       DUE TO THE COVID 19 PANDEMIC, HER FUNERAL AND BURIAL IN ST. JOSEPH CEMETERY WILL BE HELD PRIVATELY. IN LIEU OF FLOWERS DONATIONS MAY BE MADE IN HER MEMORY TO ST. ANTHONY'S CHURCH, 893 CENTRAL STREET, LOWELL, MA 01852.  ARRANGEMENTS BY THE MCDONOUGH FUNERAL HOME, 14 HIGHLAND STREET, LOWELL, MA 01852.