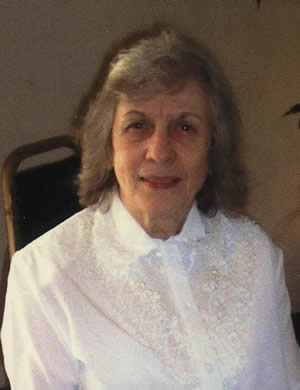 Bernadette M. 'Bernie' McCarthy

LOWELL Bernadette M. 'Bernie' (Ricard) McCarthy, 78, of Lowell, died Saturday, May 18, 2013, at Northwood Health Care Center after an extended illness.

A daughter of the late Maxime and the late Rosa (Brule) Ricard, she was born November 26, 1934, in Westford and attended the Cameron Elementary School and graduated from Westford Academy, Class of 1952.

Bernie enjoyed spending time with her children, grand children, great grandchildren, and brothers and sister and their families. She loved music, especially Country music, animals, and was a lifetime member of the Franco-American Club in Westford. She worked for the City of Lowell School Department as a Teacher's Aide for more than seven years prior to her retirement. She was a communicant of St. Patrick Church.

She is survived by her children, Brian McCarthy and his wife, Gayle, of New Hampshire, Steven M. McCarthy of New Hampshire, and Kevin A. McCarthy of Vermont; her brothers and sisters, Viateur Ricard of Westford, Marie Deloge of Lowell and Bernard Ricard of Westford, and her sister in law Rita Ricard of Westford; and many grandchildren, great grandchildren, nieces, nephews, great nieces, and great nephews.

She was also a sister of the late Ida Finnila, the late Olivine Pierro, the late Claire Dozois, the late Theresa L'Huereux and her late husband, John, the late Gerard Ricard, the late George Ricard .

YOU ARE INVITED TO JOIN THE FAMILY FOR HER FUNERAL PROCESSION ON TUESDAY, MAY 28, 2013 AT 10:30 A.M. AT THE MCDONOUGH FUNERAL HOME, 14 HIGHLAND STREET, LOWELL 978-458-6816. HER FUNERAL SERVICE WILL TAKE PLACE AT ST. CATHERINE CEMETERY, WESTFORD FOR AT 11 A.M.. MEMORIALS IN HER NAME MAY BE MADE TO THE AMERICAN LUNG ASSOCIATION, 460 TOTTEN POND RD, WALTHAM, MA 02451 OR TO THE MSPCA, ATTN: DONATIONS, 350 S. HUNTINGTON AVENUE, BOSTON, MA 02130.