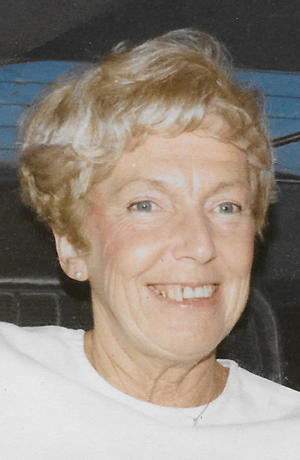 Barbara E. Fahey

DRACUT Barbara E. (ONeill) Fahey, 86, formerly of Lowell, passed away peacefully Tuesday, December 13, 2016. She was the widow of the late Frederick J. Fahey, retired Lowell Deputy Fire Chief, with whom she shared 53 years of marriage before he passed away in 2004.

She was born on April 5, 1930 in Lowell and was a daughter of the late John E. O'Neill and the late Lillian (Dow) O'Neill. She attended the local schools, including St. Peter's School and graduated from Lowell High School and Lowell Commercial College.

Barbara resided in Lowell for most of her life, but resided in Dracut for the last 20 years. She also enjoyed spending time in Florida at her New Smyrna Beach vacation residence. She was a communicant of St. Rita Church and member of St. Rita's Sodality in Lowell.
She was a bank teller at Lowell Institution for Savings for several years prior to marrying her husband, Frederick and left to raise her family. Mrs. Fahey then, along with her husband, opened the former College City Book Mart, servicing the area schools and colleges for a span of twenty years through the 1960's and 1970's.

Barbara enjoyed traveling with her family. She also enjoyed reading and antiquing. Although she had many passions throughout her life, spending time with her family was her favorite past time. Her family meant the world to her, especially her children and grandchildren.
Barbara is survived by her six children, Michael K. Fahey and his wife, Elizabeth of Hudson, NH, Mary Jo Quirk and her husband, Daniel of Chestnut Hill, John F. Fahey and his wife, Mary of Dracut, Frederick P. Fahey and his wife, Laurie of Seabrook, NH, Johannah M. Andella and her husband, William of Tewksbury, and Christopher E. Fahey of Stewartstown, NH. She is also survived by her fourteen grandchildren, Jennifer, Colleen, Allison and Paul Fahey, Bridget and Meredith Quirk, Sarah, Michaela and Johnny Fahey, Brittany and Patrick Fahey, Lauren, Lindsey, and William Andella; and one great grandson, Mikey Dronge.
She was predeceased by her sister the late Virginia Leyden and her husband, the late Frank Leyden.
ON THURSDAY, DECEMBER 15, 2016 YOU ARE INVITED TO HER CALLING HOURS FROM 3 UNTIL 7 P.M. AT THE MCDONOUGH FUNERAL HOME, 14 HIGHLAND STREET, LOWELL 978-458-6816.
ON FRIDAY, HER FUNERAL WILL BEGIN AT 9 A.M. AT THE FUNERAL HOME, FOLLOWED BY HER FUNERAL MASS AT 10 A.M. AT ST. RITA CHURCH, 158 MAMMOTH ROAD, LOWELL.
BURIAL WILL FOLLOW AT ST. MARY CEMETERY IN TEWKBSURY.