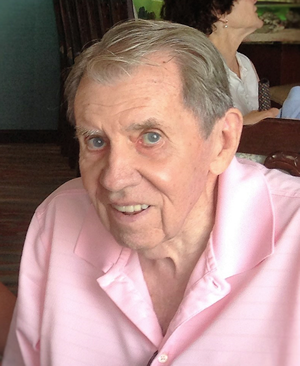 Attorney Charles S. Johnston Sr.
Loving Husband, Father and Grandfather
LOWELL – Charles S. Johnston 83, of West Palm Beach, formerly of Lowell, died Thursday, August 11th, at Morse Life in West Palm Beach. He was the beloved husband of 60 years to Marlene P. (Walsh) Johnston.
Born in Lowell, Massachusetts, August 27, 1932, the son of the late Paul A. and the late Alice E. (Brennan) Johnston, he graduated from Lowell High School in the Class of 1950, Northeastern University in 1955 and Suffolk Law School in 1962. Charlie was a 1st Lieutenant and part of the Signal Corps in the Army until his honorable discharge in 1964.
Charlie was a lawyer, entrepreneur and a technology aficionado. In their earlier years, Charlie and his family enjoyed Vesper Country Club, traveling and vacationing. He loved being in Florida with Marlene and Charlie Jr., enjoying all that it had to offer and when other family members and friends came to visit. One the achievements he was most proud of was when he was admitted and qualified as an attorney and councilor to the Supreme Court in 1984.
Beloved husband of 60 years to Marlene (Walsh) Johnston, he was adored by his two children, Charlie Johnston Jr. and Alicia Johnston Rawnsley as well as her husband, Gary Rawnsley, grandson, Blake Johnston and granddaughter, Ashley Johnston Perez.
Charlie's family would like to thank the staff at Morse Life and Avitas for the outstanding care, compassion and comfort they extended to him while in their care.

Friends may call at the McDONOUGH FUNERAL HOME 14 HIGHLAND ST., LOWELL, MA 978-458-6816 from 2 to 6 P.M. Thursday.
Relatives and friends are invited to attend his Funeral Mass to be celebrated Friday morning at ST. MARGARET CHURCH in Lowell at 10 A.M..
Those wishing may make contributions in his memory the Parkinsons Foundation at www.pdf.org. Burial in St. Patrick Cemetery.