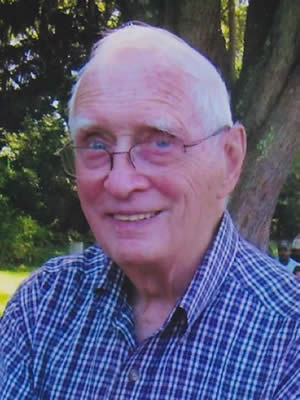 Arthur R. 'Gussy' Boulanger

LOWELL Arthur R. 'Gussy' Boulanger, 87, of Lowell, passed away after a brief illness Tuesday, July 12, 2016. He was the husband of Claire H. (McGrath) Boulanger with whom he shared the past 66 years.
He was born in Lowell, on September 30, 1928 and was a son of the late Joseph and the late Marie (Normandin) Boulanger. He was raised in Lowell where he attended the area schools.
Mr. Boulanger enlisted with the United States Navy in 1945, and earned the World War II Victory Medal. Later as a Navy Reservist, he served during the Korean War. During his tour of duty he earned the Blue Nose Certificate for crossing the Arctic Circle on an ice breaker ship in the North Atlantic.
He was a lifelong Lowell resident and was a communicant of Holy Family Parish in South Lowell. Arthur was employed as an Inspector and Group Leader at Raytheon for 43 years before his retirement. He was a true family man, nothing meant more to him than spending time with his family. All will remember him for his blueberry pancakes. He enjoyed walking, fishing, blueberry and strawberry picking, and was an avid Red Sox fan. He was a member of the Westford Conservation Committee.
In addition to his beloved wife, Claire of Tewksbury, Arthur is survived by his children, Robert Boulanger and his wife, Suzanne of Hudson, NH, Daniel Boulanger and his wife, Audrey of Tynsgboro, Ruth Ann O'Brien and her husband, John of Wakefield, Elizabeth Bourassa and her husband, Anthony of Windham, NH and Arthur Boulanger of Dover, NH, Jessica Desimone and her husband, Mark of Malboro, and a daughter in law, Annette Boulanger of Lowell. He is also survived by 23 grandchildren, 15 great grandchildren, and many nieces and nephews.
Arthur was predeceased by a son, David Boulanger; a grandson, Travis Desimone; and his siblings Norman Boulanger, Edward Boulanger and Catalina 'Rita' Sullivan.
ON SUNDAY, JULY 17, 2016 YOU ARE INVITED TO HIS CALLING HOURS FROM 2 UNTIL 6 P.M. AT THE MCDONOUGH FUNERAL HOME, 14 HIGHLAND STREET, LOWELL, MA 978-458-6816.
ON MONDAY, HIS FUNERAL WILL BEGIN AT 9 A.M. AT THE FUNERAL HOME. HIS FUNERAL MASS WILL BE OFFERED AT HOLY FAMILY PARISH, 30 GRAFTON STREET, LOWELL AT 10 A.M..
BURIAL IN ST. MARY CEMETERY. MEMORIAL DONATIONS IN HIS NAME MAY BE MADE TO THE ALZHEIMER'S ASSOCIATION, 480 PLEASANT STREET, WATERTOWN, MA 02472.