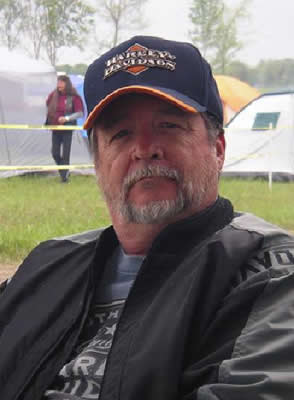 Arthur J. 'Lucky' O'Brien

"Member of The Lagos Family"

LOWELL Arthur J. 'Lucky' O'Brien, 60, of Prattville, Alabama, died after a courageous battle with brain cancer Friday, November 26, 2010 at Saints Medical Center in Lowell.

Born August 4, 1950, in Lowell, he was a son of the late Arthur J. O'Brien II, and Isabelle 'Liz' (O'Brien) Lagos of Windham, NH, attended the local schools graduating from Lowell High School.

Mr. O'Brien served with the United States Army during the Vietnam War. During his service in the United States Army he earned many medals including the National Defense Service Medal, the Combat Infantryman Badge, the Vietnam Service Medal with two bronze service stars, the Republic Vietnam Campaign Medal, the Vietnam Cross of Gallantry with Palm, the Good Conduct Medal, the Army Commendation Medal, and the Expert Rifle Medal. After his honorable discharge from the U.S. Army he worked as a civilian for the Army at Fort Devens and also Maxwell-Gunter Air Force Base in Montgomery, Alabama for over 25 years before his retirement. He served his country for over 30 years with an unparalleled patriotism and devotion to the United States military.

He resided in Winchendon, MA for sixteen years before moving to Alabama for the past fifteen years and was a communicant of St. Michael's Church in Lowell. He was employed in the Information Technology field for thirty years, establishing a small computer business in 1997 called OB's Computer Company, keeping Alabama connected for many years. He enjoyed riding motorcycles and attending Harley Davidson rallies and Nascar events. He was passionate for fixing peoples computers and was well known for that throughout the community.

Besides his Mother, Liz, and Kenneth Lewis both of Windham, NH, He is survived by a son, James A. O'Brien of Roslindale, MA; his siblings, Kathleen Upton of North Carolina, David O'Brien and his wife, Sarah of Texas, Coe Lagos and his wife, Jen of California, Scott Lagos and his wife, Ellen of Windham, NH; his nieces and nephews, Sean Patrick O'Brien of Texas, Kristen Nichols of Tewksbury, and Colin Lagos, Timothy Lagos, and Abigail Lagos all of Windham, NH; and many close friends especially Dave Grimshaw of Lowell, Robert and Cynthia Vickery of Alabama, Liz Gilliland and the Owen Family all of Alabama.

He was also the son of the late George 'Geo' Lagos and grandson of the late Ruth Wheelden.
You are invited to His calling hours from 4 until 8 p.m. on Tuesday. On Wednesday, His Funeral will begin at 9 a.m. at the McDONOUGH FUNERAL HOME, 14 HIGHLAND STREET, LOWELL 978-458-6816. His Funeral Mass will be offered at ST. MICHAEL'S CHURCH at 10 a.m.. Burial to take place in the Cemetery on the Plains in Windham, NH. Please send memorials in his name to The National Cancer Institute, Building 31 Room 11A-16, 9000 Rockville Pike, Bethesda, MD 20892. E-condolence site - McDonoughFuneralHome.com