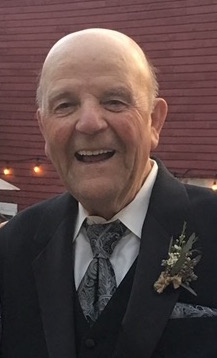 Arthur M. McDermott Sr.

LOWELL, MA Arthur M. McDermott Sr., 84, of Lowell, passed away peacefully after a long battle with cancer on Saturday, May 25, 2019 at Town and Country Nursing Home with his family by his side. He was the widower of the late Phyllis Ann (Scott) (Keenan) McDermott who passed away in 1989 after 29 years of marriage.

He was born in Lowell on August 23, 1934 and was a son of the late Edward McDermott and the late Theresa (Roth) McDermott. He was raised in Lowell where he attended the area schools before being drafted into the United States Army in 1957. He was stationed in Germany until his honorable discharge in 1959. After returning home, he was employed as a milkman, starting out at working at Kidd's Dairy, then worked at many others along the way. He eventually started his own franchise through Hood until his retirement in 1992. He was more than a milkman to many of the families he served and was affectionately known as "Mr. Mac" to many along his route. He was easy to talk to and could always be counted on to lend an ear to those who just needed someone to talk to.

Arthur was an avid golfer and actively participated in the City of Lowell Golf Tournament over the years. He was a big Boston sports fan, supporting all the local teams. Above all else, spending time with his family, especially his grandchildren brought him the most joy. He will be fondly missed and remembered by his grandchildren and great grandchildren.

Arthur is survived by his children, Colleen Reynolds and her husband, Brett of Hudson, NH, Shirley Keenan and her husband, Ronald Vitukevich of Chelmsford, Michael McDermott and his wife, Janine of Nashua, NH, Thomas McDermott and his wife, Tracy of Salem, NH, Tracy McDermott of Hudson, NH, Arthur M. McDermott Jr. and his wife, Carol of Lowell, and Christopher McDermott and his wife, Gloria of Lowell. He is also survived by several grandchildren, great grandchildren, great great grandchildren, and his siblings, Dorothy Smith of Peachtree City, GA.

In addition, he was predeceased by his son, the late John Scott Keenan who passed away in 1970 while serving his country with the U.S. Army during Vietnam as a Warrant Officer; and his siblings, the late Robert 'Bobby' McDermott, the late Thomas McDermott, the late Edward McDermott, and the late Rita Vines.

ON THURSDAY, MAY 30, YOU ARE INVITED TO HIS VISITATION FROM 4-7 P.M. AT THE MCDONOUGH FUNERAL HOME, 14 HIGHLAND STREET, LOWELL, MA 978-458-6816.
ON FRIDAY MORNING, HIS FUNERAL WILL BEGIN AT 9 A.M. AT THE FUNERAL HOME. HIS FUNERAL MASS WILL BE OFFERED AT IMMACULATE CONCEPTION CHURCH, 144 EAST MERRIMACK STREET, LOWELL AT 10 A.M. FOLLOWED BY BURIAL AT ST. PATRICK CEMETERY.