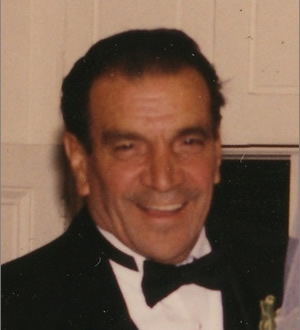 Arthur "Herky" Santos,
Retired Lowell Police Officer
LOWELL Herky was born the adored son of Argentina Santos on March 16, 1934 in Lowell, MA. He was married to Alice O'Brien July 18, 1964. He worked as a Police Officer for the City of Lowell for over 30 years and retired in 1992. After retirement, he worked for the Middlesex County Sheriff's Department. Herky also toured on the USS Glennon in active duty in the Korean War in 1951 and was honorably discharged from the US Navy in 1953. He was an active member at the Tyngsboro Country Club and a parishioner at St. Margaret Church. Herky passed peacefully at home on Saturday, surrounded by his loving family.
Herky will be most remembered as a fun-loving man whose laugh was infectious. His trumpeting voice, funny wit, and sarcastic sense of humor left no person untouched. He was beloved by all he met and was always the life of the party. He was a devoted husband who worked tirelessly to provide for his family. He took active interest in all of his children, their spouses, and most of all, his 12 grandchildren. Although he will be sorely missed, he will live forever in our memory and will never be forgotten.
Herky is survived by his wife of 49 years, Alice G. (O'Brien) Santos, and his 6 children; Shaun & Ann (McGonagle) Santos, their children Connor & Bridget of Wakefield, MA; Brian & Tina (Thompson) Santos, their sons, Bryce & Camden of Pelham, NH; Cheryl & Alan Sayer, their sons, Nathaniel & Joshua of Lowell, MA; Arthur and Martha (Fallon) Santos of Lowell, MA; Colleen & Henri Asselin, their children Benjamin, Matthew, & Erin of Lowell, MA; and Christine & Michael (Mick) Durkin, their children Kyle, Sydney & Leah of Dracut, MA. He is also survived by his sisters-in-law Joanne Connell of Westford, MA; and Mary Richardson of Chelmsford, MA along with several nieces and nephews. He was pre-deceased by his brothers-in-law, Tom Richardson of Chelmsford, MA; and Daniel Connell, of Westford, MA.
Friends may call at The McDonough Funeral Home, 14 Highland St. Lowell, MA, on Tuesday June 11 from 3 to 8 p.m. The funeral will begin at 8:30 in the funeral home on Wednesday with a funeral Mass at 9:30 am at St. Margaret Church, 374 Stevens Street, Lowell MA. Herky will be laid to rest in St. Patrick's Cemetery in Lowell, MA.
The family would like to recognize and thank the physicians, nurses, and staff who provided exceptional care at the Lowell General Hospital Cancer Center, Senior Helpers Inc., and Greater Lowell VNA.
For those who desire, contributions can be made to: American Cancer Society, 30 Speen Street, Framingham, MA 01701.