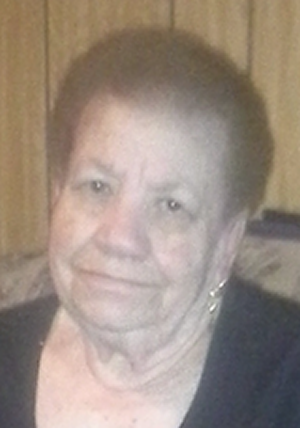 Antonieta Gil (Ramos) Bettencourt
"Beloved Mother, Grandmother, Great Grandmother and Great Great Grandmother"

Antonieta Gil (Ramos) Bettencourt, 88, a longtime Lowell resident, passed away on Friday, February 28 at her daughters home, in Chelmsford. She was the widow of the late Joao "John" Bettencourt who passed away in 2014 after 65 years of marriage.

She was born on August 7, 1931 in Graciosa, Azores, Portugal and was raised and educated on the island. A daughter of the late Joao Ramos and the late Cultilde (Lima) Ramos, she came to the United States in 1966, settling in Lowell's Back Central Street Neighborhood.

Mrs. Bettencourt will be forever remembered as a devoted wife and mother. She enjoyed cooking and especially baking - her sweet bread being a favorite of the family. She also liked shopping or just taking walks and was a dedicated communicant of St. Anthony's Church. She was blessed with a large family and always loved the company of her grandchildren, great grandchildren and her great great grandson. A natural Mother, she would even look forward to babysitting the neighborhood children and family friends over the years.

She is survived by her children, Maria Bettencourt of Chelmsford, Denia Cunha and her husband, Manuel, of Lowell, Valdemar Bettencourt and his wife, Xiaopei Wang of Nashua, George Bettencourt and his wife, Kathy, of Lowell, Aguinaldo Bettencourt and his wife, Elizabeth, of Lowell, Teresa Bettencourt of Mississippi, 16 grandchildren, 19 great grandchildren and 1 great great grandson. She is also survived by her siblings, Jorge Lima of Lowell, Carolina Ramos of New Jersey, Antonio Ramos of Lowell, Maria Antonia of Graciosa, Azores and Joao Ramos of Cambridge.

She was also the mother of the late Neogenio Bettencourt, mother in law of the late Serafim Picanço Bettencourt, grandmother of the late Anthony J. Cunha who passed away in 2012, and the sister of the late Gabriel Lima, the late Lina Avila and the late Manuel Gil Lima, and the late Jose G. Ramos and a sister in law of the late Teresa DaSilva.
ON TUESDAY, MARCH 3 YOU ARE WELCOME TO ATTEND HER VISITATION FROM 4 UNTIL 8 P.M. AT MCDONOUGH FUNERAL HOME, 14 HIGHLAND STREET, LOWELL, MA 01852.
ON WEDNESDAY, HER FUNERAL MASS WILL BE OFFERED AT ST. ANTHONY CHURCH, 893 CENTRAL STREET, LOWELL, MA  AT 10 A.M.
PROCESSION WILL FOLLOW FOR BURIAL AT WESTLAWN II CEMETERY.