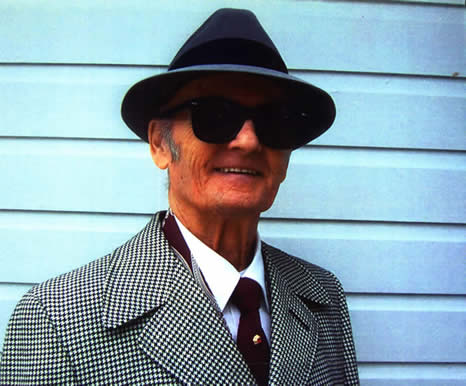 Anthony J. 'Huck' Finneral

local actor and entertainer

LOWELL Anthony J. 'Huck' Finneral, 77, of Lowell, died Tuesday, August 18, 2009, at Heritage Nursing Care Center, after a brief illness.

Born December 13, 1931, in New York City, New York, he was a son of the late Elizabeth Finneral Johnson. He moved with his family to Lowell in 1936, and was educated in St. Peter's School.

Huck had many jobs throughout his lifetime, working for Laganas Shoe and Trull Farm. He played conga drum and sang in many of the area night clubs in the 1960's with 'The 5 J's Band'. Acting was Huck's passion, and as a member of the Screen Actor's Guild, he appeared in several movies under the stage name "Jerome Hawks", including the first independent movie in Massachusetts 'Sasqua' which was filmed in Lowell and the Dracut Forest, where he played a hunter. In Vermont, he was an extra in 'A Stranger in the Kingdom' where he played along side Martin Sheen. He also was in a Dunkin Donuts commercial with New England Patriots Quarterback, Tom Brady. Huck enjoyed being an entertainer and will be fondly remembered by many for his musical abilities and his renditions of his Hollywood encounters.

He is survived by his sons, Mark Finneral of New Hampshire and James Andrews and his wife, Anne, of Crestline, CA; a daughter, Elizabeth Kiley of New Hampshire; his grandchildren, Amanda Elizabeth Kiley and Patrick Kiley both of New Hamsphire; and many cousins and friends.

YOU ARE INVITED TO HIS VISITATION 8 UNTIL 10 A.M. ON MONDAY, AUGUST 24, AT THE MCDONOUGH FUNERAL HOME, 14 HIGHLAND STREET, LOWELL (978 OR 800) 458-6816. HIS FUNERAL MASS WILL BE OFFERED AT ST. ANTHONY'S CHURCH AT 11 A.M.. BURIAL IN ST. PATRICK CEMETERY. MEMORIALS IN HIS NAME TO AMERICAN CANCER SOCIETY CENTRALIZED MEMORIAL UNIT, 30 SPEEN ST., FRAMINGHAM MA 01701. E-CONDOLENCE SITE WWW.MCDONOUGHFUNERALHOME.COM