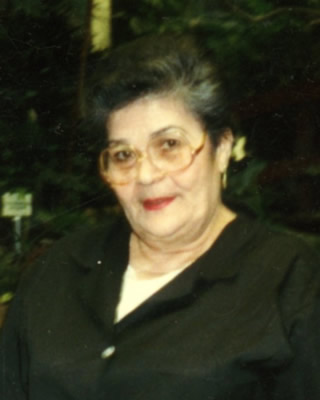 Angela R. 'Angie' Rosas

LOWELL Angela R. 'Angie' (Rosas) Rosas, 82, of Lowell, died Monday, November 26, 2012, at her home after a brief illness.
Born August 18, 1930, in Isabella, Puerto Rico, she was a daughter of the late Arcadio Rosa and the late Angelina Rosa. She grew up and was educated in Puerto Rico. Angie moved to Ohio at the age of twenty four. In Ohio she worked making dies for tire molds. In 1979, she moved to Lowell to be closer to her family. Where she worked for Wang Laboratories. Angie enjoyed reading, sewing, crotcheting, knitting, watching cooking shows, and especially enjoyed watching Spanish Novelas.

She is survived by her sons, Michael Guivas of Lowell and Ann Guivas, and Dennis B. Rader and his wife, Mary L., of Woburn; her fourteen grandchildren; many great grandchildren; her brothers, Luis Rosa of Lowell, and Miguel Rosa of Lowell; her sisters, Jane Fratus and her husband, Paul, of Lowell, Tammy Pender of Lowell, and Olga Rosa of Lowell; and
many cousins, nieces, and nephews.

She was also the mother of the late James 'Linger' Rader who died in 2002, and Robert 'Bubba' Rader who passed away in 2011, and was a sister of the late Raymond Rosa and the late Armando Rosa.

YOU ARE INVITED TO HER VISITATION 11 A.M. UNTIL 1 P.M. ON FRIDAY, NOV 30, AT THE MCDONOUGH FUNERAL HOME, 14 HIGHLAND STREET, LOWELL (978 OR 800) 458-6816. HER FUNERAL MASS WILL BE OFFERED AT ST. ANTHONY'S CHURCH, 893 CENTRAL ST., LOWELL, AT 2 P.M. BURIAL IN ST. JOSEPH CEMETERY. o.