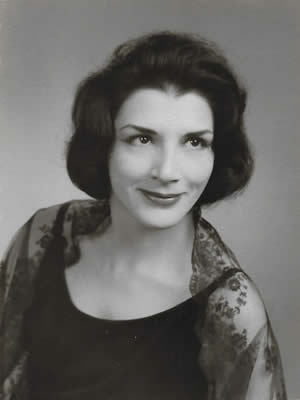 Anastasia (Kyriacopoulos) Porter

LOWELL Anastasia "Ann" "Sia" (Kyriacopoulos) Porter, 87, of Lowell, passed away peacefully with her son by her side, Saturday, February 4, 2017 at Merrimack Valley Hospice House in Haverhill. She was the widow of the late Frederick Foster Porter who passed away in January of 1990 after almost 30 years of marriage.

She was born in Lowell on July 5, 1929 and was a daughter of the late Charles Kyriacopoulos and the late Helen (Lampropoulos) Kyriacopoulos. She was raised in Lowell where she attended the Lowell Public Schools. Anastasia then continued her education at Simmons College in Boston where she earned her Bachelors Degree in Library Science. She also studied Spanish, German, Art and Philosophy at Wayne University, the University of Maryland and Brown University.

She devoted her life to working as a Librarian and worked many places including the United States Air Force Library in Wiesbaden, Germany, Brown University, the Free Library of Philadelphia and the Detroit Public Library. She was also a longtime substitute teacher at Lowell High School, Moody Junior High School, and the Peter W. Reilly Elementary School.

Since 1961, Anastasia has resided in the Belvidere section of Lowell and was a lifelong member of Holy Trinity Greek Orthodox Church. She was an artist and was Trustee Emeritus of the Lowell Art Association Inc. and Whistler House Museum of Art.
She loved traveling, especially to Europe and Seattle to visit her son, Christopher. She was also a voracious reader and an avid Boston sports fan, particularly of the Boston Red Sox.

Anastasia is survived by her son, Christopher Porter of Seattle, WA; her stepchildren, Cynthia Larson of Townsend and Fred Porter of Groton; and her brother, William Kyros of Dracut. She is also survived by her nephew, Konstantine Kyros; and many additional close relatives and friends throughout the area.
She was predeceased by her sister, Stella Kyriacopoulos.
DATES AND TIMES HAVE BEEN UPDATED DUE TO WEATHER
YOU ARE INVITED TO HER VISITATION ON FRIDAY FROM 12-1 P.M. AT HOLY TRINITY GREEK ORTHODOX CHURCH, 62 LEWIS STREET, LOWELL, MA.
HER FUNERAL SERVICE WILL BEGIN FRIDAY AT 1 P.M. IN THE CHURCH. A PROCESSION WILL FOLLOW FOR BURIAL AT LOWELL CEMETERY ON KNAPP AVE. IN LOWELL.