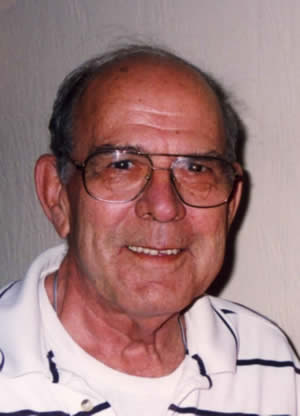 Alphonse T. "Big Al" Maille
LOWELL Alphonse T. "Big Al" Maille, 86, of Lowell, died Wednesday, October 31, 2012 at Lowell General Hospital. He was the widower of Ellen P. (Collins) Maille. A son of the late Edmond J. and the late Clara (Levesque) Maille, he was born on December 24, 1925, in Lowell. He attended St. Louis Grammar School, graduated from Lowell High School and attended Lowell University. He served with the United States Navy during World War II.
Mr. Maille resided in the Pawtucketville section of Lowell since 1941 until his recent health decline when he was cared for compassionately by the staff at Palm Manor Rehabilitation Center and Nursing Home. He was a communicant of St. Rita Parish. He worked for Raytheon Corporation in Andover for more than thirty years before his retirement. He was a member of the Disabled American Veterans and a former member
of the Lowell Lodge of Elks. He was a member of the American-Canadian Genealogical Society where he met his friends John Cooke and Janemarie Henrick. He enjoyed his time spent in Manchester, N.H. tracing his family lineage and creating a publication of the Maille and Levesque family histories.
Mr. Maille is survived by his nieces and nephews, Brenda P. Maille, Carol J. Gagnon, Cleo D. Mirowski, Philip R. Koser, Richard D. Koser,Robin Koser-Mellor, Janet Kowalchuk and Raymond Maille. He is also survived by a special great-niece, Phyllis Gagnon Barrett, and many other great-nieces and nephews, and his sister-in-law, Josie Maille.
He was the brother of the late Raymond F. Maille, Cleo J. Koser, Lucille V. Koser and Donald P. Maille and uncle of the late Robert Maille.
YOU ARE INVITED TO ATTEND HIS MEMORIAL MASS ON SATURDAY, NOVEMBER 10, 2012 AT 9:00 A.M. AT ST. RITA PARISH, 158 MAMMOTH RD., LOWELL. DONATIONS MAY BE MADE IN HIS MEMORY TO THE AMERICAN-CANADIAN GENEALOGICAL SOCIETY, P.O. BOX 6478,MANCHESTER, N.H. 03108. ARRANGEMENTS BY THE MCDONOUGH FUNERAL HOME, 14 HIGHLAND ST, LOWELL 978-458-6816. PLEASE VISIT WWW.MCDONOUGHFUNERALHOME.COM TO SEND AN E-CONDOLENCE.