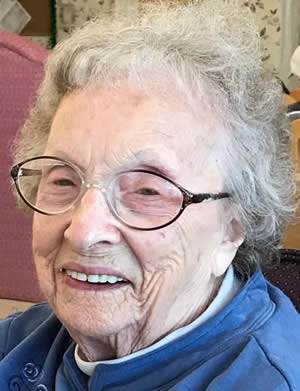 Alice M. (Caron) Zaniewski, 95
Loving Mother, Grandmother, and Sister

LOWELL    Mrs. Alice M. (Caron) Zaniewski, wife of the late Edward M. Zaniewski and daughter of the late Joseph and Mary Caron, passed away peacefully at D'Youville Senior Care facility in Lowell, MA on August 3, 2018. She was born on December 24, 1922 in Lowell, MA and resided in the Acre section of the city all her life. She was a graduate of Lowell High School and worked for many years at Farnsworth Company, and Lowell Technological Institute.

    Alice had a love for crocheting and often made booties, hats, and mittens for children in need. She was formerly an active member of the Ladies Sodality at St. Patrick Church in Lowell for many years. She enjoyed Bingo, trips to Las Vegas, and in her later years, attending activities with her husband at the Senior Center in Lowell.

    Alice is survived by a daughter, Karen Trzcienski and her husband, Michael of Dracut; a son, Edward Zaniewski and his wife, Ellen of Sandwich, MA; a brother, John Caron and his wife, Patricia of Lowell; and a sister, Ruth Upton of Palm Coast, FL. She also has 8 grandchildren; Joseph Lisi and his wife, Lisa, of Hudson, NH, Donna Shurtleff of Dracut, Karen MacFarlane and her husband, Keith, of Boulder, CO, Carla Farrace of Milford, CT, Stacey Scirocco and her husand, Pasquale, of Durham, CT, Joseph Zaniewski of Milford, CT, Heather and Jared Zaniewski both of Sandwich and several great grandchildren, as well as many nieces and nephews.

    She is predeceased by her husband, Edward; her son, Harry Zaniewski; her daughter, Lee Shurtleff; and her granddaughter, Kristine Shurtleff.

    The family would like to say a very heartfelt thank you to the staff at D'Youville Senior Care, for the excellent care Alice received during her struggles with Alzheimer's. She was always treated with respect and kindness.


    In keeping Alice's wishes, burial services will be held privately. Donations in Alice's memory can be made to: D'Youville Senior Care, 981 Varnum Ave., Lowell, MA 01854. Arrangements by the McDonough Funeral Home, 14 Highland Street, Lowell, MA 978-458-6816.