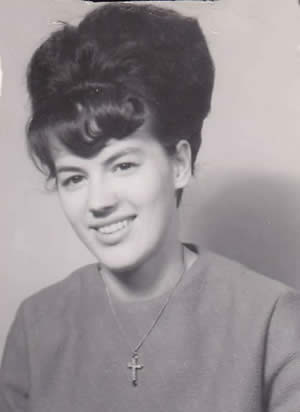 Alice G. (Hildreth) Gregoire

CHELMSFORD Alice G. (Hildreth) Gregoire, 72, a longtime Chelmsford resident, passed away Friday, June 7, 2019, at Palm Center with her beloved family at her side. She was the devoted wife of David "Mickey" Gregoire since 1965 Childhood sweethearts, Alice and Mickey first met when they were 12 years old.

She was born on April 15, 1947, in Lowell, and was a daughter of the late Walter R. Hildreth and the late Gertrude (Boisvert) Hildreth. She was raised and educated in Lowell's Highlands neighborhood. She was employed as an electronics assembler locally for many years. More recently, she worked as a housekeeper at the Marriot Residence Inn of Chelmsford.

Alice cherished her family above all. Time spent with her family and taking care of her children and grandchildren, was what meant the world to her. She dearly missed her daughter, the late Jennifer Gregoire, who was taken too soon and is now reunited with her.

Besides her husband, Mickey, she is survived by her son, Shawn Gregoire, and his wife, Jodi, of Chelmsford, her daughter, Kimberly Whitney, of Chelmsford, her siblings, Charles Hildreth and his wife, Rosie, Walter Hildreth and his wife, Terry, James Hildreth and his wife, Louise, Ellen McMeniman, Philip Hildreth and his wife, Joanne, and John Hildreth and his wife, Tina Marcopoulos, all of Lowell, her brother in law and sister in law, Joseph and Judith Gregoire of Maine. She is also survived by her grandchildren, Nathan, Ryan, Amber & Grace Gregoire, Cameron Whitney many nieces, nephews including Tim McMeniman and Tina Hildreth, and friends, including her cousin and close friend Linda Weed.

In addition to her daughter, Jennifer, she was predeceased by her father in law and mother in law, the late Joseph and Helen Gregoire.

ON MONDAY, JUNE 10, 2019, YOU ARE INVITED TO HER CALLING HOURS FROM 4-8 P.M. AT THE MCDONOUGH FUNERAL HOME, 14 HIGHLAND STREET, LOWELL 978-458-6816.
ON TUESDAY, HER FUNERAL PROCESSION WILL BEGIN TO FORM AT 10 A.M. AT THE FUNERAL HOME.
HER FUNERAL MASS WILL BE OFFERED TUESDAY AT 11 A.M. AT ST. MARY CHURCH, 25 NORTH ROAD, CHELMSFORD, MA.
PROCESSION WILL FOLLOW FOR BURIAL AT WESTLAWN CEMETERY IN LOWELL.