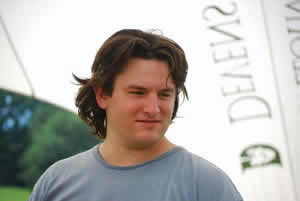 Alan Michael Johnson
Avid Ultimate Frisbee Player
CHELMSFORD Alan Michael Johnson, 25, a lifelong Chelmsford resident, died unexpectedly in Chelmsford. He was the beloved son of Peter and Francene (Wilson) Johnson of Chelmsford.
Born February 11, 1984, in Lowell, he was educated in the Chelmsford School System, graduating from Chelmsford High School, Class of 2002. He currently attended Middlesex Community College and had attended Bridgewater State College. He was a member of the Chelmsford High Swim team from 1999 until 2002. The team was the MVC Champions from 1999 until 2002, and they were also the 2002 MIAA Boys Swimming & Diving State Division 1 Champions. He participated annually in the CHS Youth of Chelmsford 24 Hour Relay. He continued to participate even after graduating.
Alan's passion was Ultimate Frisbee. He was a member of The Boston Ultimate Disc Alliance, The Castaways Ultimate Frisbee Team, The Ultimate Players Association and the UMass Lowell Ultimate Frisbee Team. He also helped coach the Chelmsford High School Ultimate Frisbee Team. He was also an avid Dungeons and Dragons Role Playing Member for over 15 years. Most of all, he enjoyed spending his summers at Weirs Beach, NH with his family.
He made his lifelong home in Chelmsford, and worked part time as a courier while earning his degree.
Besides his parents, Peter and Francene, he is survived by his brother Christopher Johnson of Chelmsford; his aunts and uncles, James and Ellen Johnson of Dracut, Robert and Roxie Johnson of Weare, NH, David and Greta Wilson of Dracut, Patricia Wilson of Pompano Beach, FL, and Gerry and Jean Swanson of Nashua, NH; his great aunts, Hazel Sheehan of Brookline, Gladys Pearson of Chelmsford and Helen Chateauneuf of Carlisle; his cousins, Tommy, Mary Lou, Robyn, Davy, Donna, Stevie, Scott, Stacey, Mark Joel, Sarah, Amy, Michael, Elena, Nicky, Billy, Kathy and Janice; and his many friends and teammates, especially Jimmy and Diane Boermeester of Chelmsford.
He was also a brother of the late Brian Alan Johnson who passed away in 1982 and grandson of the late Frank and Cecilia Wilson and Ernest and Evelyn Johnson, as well as a nephew of the late Donna Johnson, Stephen Wilson, Joseph Wilson, Michael and Maureen Wilson, and his cousins, the late Brent Wilson and Harry Johnson.

YOU ARE INVITED TO HIS MEMORIAL MASS ON MONDAY, JULY 6, 2009, AT 11 A.M. AT ST. MARY CHURCH, 25 NORTH RD, CHELMSFORD.
ARRANGEMENTS BY THE MCDONOUGH FUNERAL HOME, 14 HIGHLAND ST., LOWELL MA 01852 978-458-6816.
PLEASE SEND MEMORIALS IN HIS NAME TO BOSTON ULTIMATE DISC ALLIANCE (BUDA) 65 WOBURN STREET, WALTHAM MA 02452, OR TO THE CHARITY OF YOUR CHOICE.