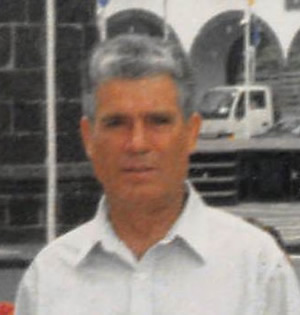 Agostinho 'Gus' Medeiros

LOWELL Agostinho 'Gus' Medeiros, 81, of Lowell, passed away Sunday, September 8, 2019 after a long illness at Lowell General Hospital.
He was born in Sao Miguel, Azores, Portugal on May 27, 1938 and was a son of the late Agostinho and the late Maria Medeiros. He was raised in Sao Miguel, where he attended the area schools and worked as a farmer.
In 1972, Gus relocated to the United States, settling in the Back Central Street neighborhood of Lowell. He was employed as a machine operator at Prince Spaghetti for over 30 years before his retirement. Gus would often be found tending to his garden, which was considered by some to be 'the best garden in Lowell'. He enjoyed fishing, and watching wrestling and soccer, especially the Portuguese soccer teams. Although he had many passions throughout his life, spending time with his family brought him the most happiness. He was a hard worker, great father, and provider to his family, who meant the world to him.

He is survived by his two children, Daniel Silva Medeiros of Lowell, and Andrea Marie Silva Medeiros of Lowell; and his grandchildren, Trevor Daniel Medeiros of North Carolina, Rodrigo Neves of Lowell, Evelyn Amarante of Lowell, and Nikolas Antonio Luz of North Carolina. He is also survived by his siblings, Miguel Medeiros of Fall River, Daniel Medeiros of Canada, Jose Medeiros of Sao Miguel, Maria Farias of Sao Miguel, Libelia Reis of Sao Miguel, and Idalina Botelho of Sao Miguel; his God Daughter, Isabelle Potter; many nieces and nephews including, Michael Medeiros, Dorianna Medeiros, Natividad Medeiros; his former wife, Elsa DaSilva of Santa Cruz, Graciosa, Azores; as well as many friends and extended family members.
Gus was also a brother of the late Antonio Medeiros.

           ON SUNDAY, SEPTEMBER 15, YOU ARE INVITED TO HIS CALLING HOURS FROM 2 UNTIL 6 P.M. AT THE MCDONOUGH FUNERAL HOME, 14 HIGHLAND STREET, LOWELL 978-458-6816.  ON MONDAY MORNING, HIS FUNERAL WILL BEGIN AT 9 A.M. IN THE FUNERAL HOME. HIS FUNERAL MASS WILL BE OFFERED MONDAY AT SAINT ANTHONY CHURCH, 893 CENTRAL STREET, LOWELL, AT 10 A.M..  BURIAL IN LOWELL CEMETERY.