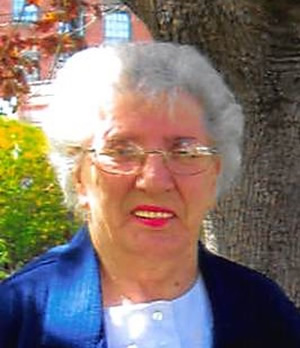 Adeline M. 'Adele' Perreault
LOWELL Adeline M. 'Adele' (Urbanowicz) Perreault, 86, of Lowell, formerly of Dracut, passed away Saturday, August 20, 2016, at the Palm Center after a lengthy illness.
A daughter of the late Joseph and the late Mary (Dziedzic) Urbanowicz, she was born January 6, 1930, in Lowell, and educated at St. Stanislaus Grammar School and the Lowell schools.
For many years she made her home in Dracut before residing in Lowell. She worked as an assembler for Honeywell in Lowell and for Hewlett Packard in Andover before retiring after fifty years of work. She was a communicant of Holy Trinity Church, and was a member of the 'Sound Abouts' playing Polish music throughout the area. She also enjoyed traveling and sports, mostly the Boston Red Sox.
She is survived by her brother, John J. Urbanowicz of Lowell, his children, Helen Paige and her husband, Frank, and Alice Urbanowicz; as well as many additional nieces and nephews, including Ron and Sheila Perreault of Lowell; and several grand nieces and grand nephews.
She was also a sister of the late Jennie Perreault and the late Josephine Onanian, and also the good friend of the Sandra Wojcik.
YOU ARE INVITED TO HER FUNERAL SERVICE AT 4 P.M. ON THURSDAY AT THE MCDONOUGH FUNERAL HOME, 14 HIGHLAND STREET, LOWELL 978-458-6816.
VISITATION WILL FOLLOW THE SERVICE UNTIL 7 P.M.
BURIAL WILL HELD PRIVATELY.
MEMORIALS IN HER NAME CAN BE MADE TO THE AMERICAN LUNG ASSOCIATION, 1661 WORCESTER RD., SUITE 301, FRAMINGHAM MA 01701.