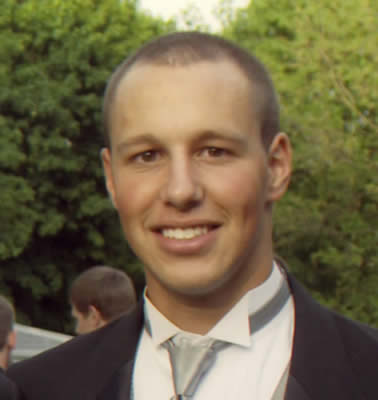 Adam Michael Keenan

"Beloved Son, Grandson and Brother, Local Baseball Prospect"

LOWELL Adam Michael Keenan, 20, of Lowell, died unexpectedly, Monday, June 6, 2011, in Rochechester, NH, during summer baseball practice. He was the son of Michael and Audrey (Cafeteiro) Keenan of Lowell.

Born April 29, 1991, in Lowell, he was educated in the Lowell Schools, attending the John J. Shaughnessy Grammar School, the James Sullivan Middle School, and graduated from Lowell High School, Class of 2009. He attended Franklin Pierce University as a freshman and was currently enrolled with the University of Massachusetts at Lowell, studying Criminal Justice.

An avid sportsman, Adam enjoyed playing football and lacrosse but baseball was his passion. While growing up he played with the Shedd Park League and the Lowell Pony League. He went on to play baseball with Lowell High School. He also played for the Lowell American Legion, Post # 87, and the Chelmsford Merchants, and played while at Franklin Pierce University as well as with the University of Massachusetts at Lowell. Most recently, he played with the Seacoast Mavericks.

When he wasn't playing ball, he could be found spending time with his family or fishing. He was a communicant of Holy Family Parish.

In addition to his parents, Audrey and Michael, he is survived by his sister, Christine R. Keenan of Lowell; his aunts and uncles, William T. Keenan of Sandown, NH, Peggy (Keenan) Ennis and her husband, Raymond, of Windham, NH, Patty (Keenan) Duchesne of Merrimack, NH, Brian Keenan and his wife, Cheryl, of Windham, NH, Peter Keenan and his wife, Natalie, of Lowell, Dominick Cafeteiro of Lowell, John Cafeteiro of Lowell, David Cafeteiro of Lowell, and Stephen Cafeteiro and his fiancee, Kelly Proctor, of Chelmsford; his grandmother, Ruth Cafeteiro; his girlfriend, Kelsie Nadeau of Tewksbury; and many cousins, friends, coaches, and teammates.

He was also the grandson of the late William and Marilyn Keenan and the Dominick Cafeteiro.

YOU ARE INVITED TO HIS CALLING HOURS FROM 2 UNTIL 6 P.M. ON SUNDAY, JUNE 12. ON MONDAY, HIS FUNERAL WILL BEGIN AT 9 A.M. AT THE MCDONOUGH FUNERAL HOME, 14 HIGHLAND STREET, LOWELL (978 OR 800) 458-6816. HIS FUNERAL MASS WILL BE OFFERED AT ST. MICHAEL'S CHURCH, 543 BRIDGE STREET, LOWELL MA, AT 10 A.M.. A PROCESSION WILL FOLLOW FOR BURIAL AT ST. MARY CEMETERY ON RIVER ROAD IN TEWKSBURY. PLEASE SEND MEMORIALS IN HIS NAME TO AMERICAN HEART ASSOC., FOUNDERS AFFILIATE, P.O. BOX 417005, BOSTON MA 02241 OR THE THE SPORTS CHARITY OF YOUR CHOICE. E-CONDOLENCE SITE WWW.MCDONOUGHFUNERALHOME.COM